Bed bugs are small, but are a BIG problem -
don't worry, help is just a click away.
What Do Bed Bugs Look Like?
---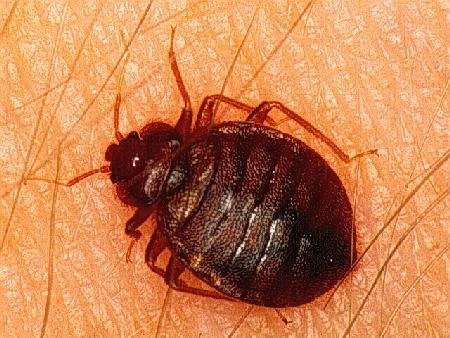 Adult Bed Bug
Adult bed bugs (left) are reddish brown in color and range from 5-7 mm in length. Bed bugs have small flat bodies and are often mistaken for small cockroaches or ticks.
---
---
Nymph Bed Bug
Nymph bed bugs (juveniles) are lighter in color than adult bed bugs and are often transparent in appearance. They can be as small as 1.5 mm.
---
---
Bed Bug Bites
Bed bugs bites will appear on areas of the body that are exposed during sleep. The most common areas are the legs, arms, shoulders and neck. The bite itself will feel like a like tickle or pinch. Patterns are often in a straight line. Do not scratch the bites as it can cause a skin infection.
---
---
Bed Bugs in Bedding
Take a look at your bedding and mattress seams first. Look in and under the box-spring. Don't forget in the corners and deep into the folds. Look for spots indicating fecal materials, blood marks on bedding, and insect moults.
---